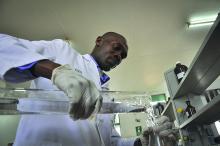 **NOTICE: This course will be updated soon to reflect GH's migration to the use of USAID Global Templates for Environmental Mitigation and Monitoring Plans (EMMPs) and Environmental Mitigation and Monitoring Reports (EMMRs). In the interim, learners can download the USAID Global Templates for easy reference as they complete the course.**
The environmental consequences of USAID-funded activities must be identified and considered by both USAID and the host country prior to final decisions to commence activities, ensuring that adequate environmental safeguards are adopted. The Bureau for Global Health (GH) is responsible for ensuring that environmental requirements are integrated into project design as well as throughout the acquisition and assistance process.
This course builds upon the lessons introduced in the Bureau for Global Health Environmental Management Process Training, which provides GH Agreement Officer's Representatives/Contracting Officer's Representatives (AORs/CORs), Activity Managers, and other stakeholders with an introduction to the GH environmental management process and a roadmap for how to plan and implement health programs consistent with the Agency's environmental legal and policy requirements. This Mitigation and Monitoring course will focus on mitigating the environmental and human health impacts of GH activities, as well as monitoring the application and effectiveness of mitigation measures.
Objective
Upon completion of this course, participants will be able to do the following:
Identify applicable legal and policy guidelines for GH environmental impact mitigation measures and monitoring activities
Explain the importance of planning, implementing, and evaluating the effectiveness of environmental mitigation and monitoring measures
Describe the main steps in environmental mitigation and monitoring, including required documentation
Select mitigation measures and monitoring activities in response to the potential environmental and human health impacts of planned project activities
Time
Published/Updated
Course Managers:
Related Courses