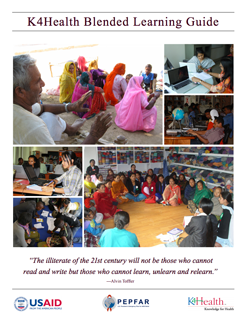 Using Courses in a Blended Learning Approach
Blended learning, the combination of a variety of learning media (face-to-face, online, print, social media) and learning environments (instructor-led, peer-to-peer interaction, self-study and individual work), enables more opportunities for application and support to learners than the eLearning courses alone.
K4Health offers technical assistance in developing distance learning and blended learning strategies.
Based on our experience, we have developed the K4Health Blended Learning Guide, which showcases how you can integrate GHeL courses into your existing capacity building and training offerings. The guide offers practical guidance and recommendations about how courses can enhance face-to-face, online, and performance support approaches.
The K4Health Blended Learning Guide is also available in French, Portuguese, Spanish, and Swahili.
Learning Communities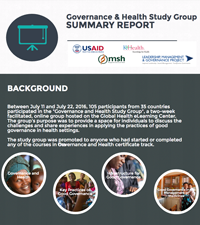 In response to feedback from Global Health eLearning Center (GHeL) learners, we created a private space that provides registered learners the ability to interact online with course authors and other learners on a specific course.
These Learning Communities provide an opportunity for a more cohort-based learning experience facilitated by a course author for a specific time period.
To date, we've held the following Learning Communities:
If you are interested in facilitating a study group, please contact us at ghlearningadmin@usaid.gov.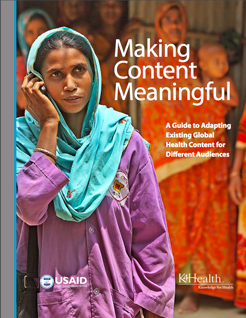 Adapting Course Content
Openly accessible health content is not sufficient by itself. It is important to provide it in the appropriate context and the language of the people who will use it. You make existing open health content useful by adaptation. Generally speaking, there are three types of adaptation:
Making content appropriate to a specific local and cultural context
Changing content into a local language*
Making it available through a different delivery method/technology appropriate for the local context
*We have a small number of courses that have been independently translated. View our Translation Policy for more information.
K4Health offers technical assistance using a systematic framework to adapt learning content to meet the needs of any target audience.
Based on our experience, we have developed the Making Content Meaningful: A Guide to Adapting Existing Global Health Content for Different Audiences to assist you in your content adaptation efforts. The guide outlines a framework with key steps and questions for consideration as well as activity sheets and an illustrative as well as real-life case studies that will help a user in making informed decisions in the content adaptation process.
Please contact us at ghelcenter@gmail.com to learn more about these services and partner with us!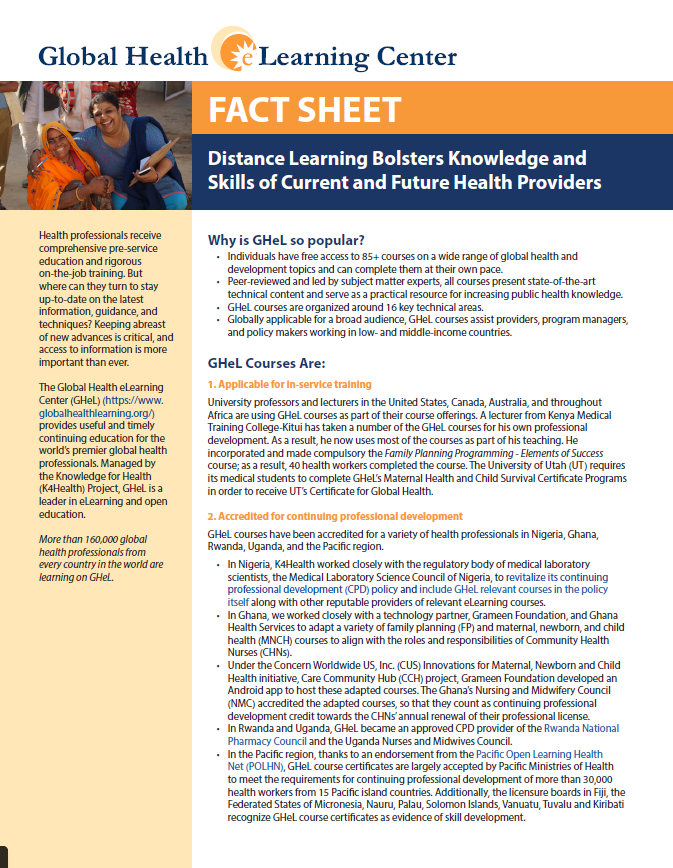 Accreditation for Continuing Professional Development (CPD)
GHeL courses have been accredited for a variety of health professionals across the globe.
There are many more cases just like these. Read our new Fact Sheet to learn more about how GHeL can bolster knowledge and skills of current and future health professionals.