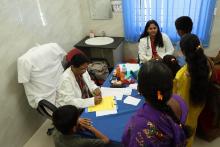 USAID's broad-based and multi-sectoral approach allows the Agency to leverage the Bureau for Global Health's Office of Infectious Disease technical expertise to strengthen local capacity worldwide to prevent, detect, and respond to infectious disease threats.
USAID has established partnerships across the U.S. Government (USG) and with relevant international, non-governmental, and other organizations to strengthen preparedness efforts for potential disease outbreaks that could require a global emergency response.
This course will provide an overview of the critical components of public health emergency response using USAID's response to the Zika outbreak as a case study of lessons learned.
Objective
After completing this e-learning course, learners will be able to:
Describe five critical components of a health emergency response
Describe the importance of being flexible and managing political climate across all five critical components
Describe the roles and responsibilities of different actors in a health emergency response
Use the five critical components of a health emergency response to make appropriate decisions during fluid and ambiguous scenarios
Time
Published/Updated
Course Authors:
Eric Baranick, USAID

Linda James, EnCompass LLC
Course Managers: