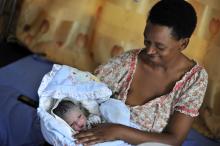 The newborn period is the most vulnerable time in a child's life. Close to half of under-five childhood deaths occur in this vulnerable newborn period. This course will orient participants to the latest research, technical knowledge, and best practices that are essential to babies surviving and thriving around the world. 
Objective
By the end of this mini-course, the participant will be able to understand and discuss the following:
The magnitude, breadth, disparities, and significance of newborn mortality worldwide
The primary causes and risk factors for neonatal morbidity, mortality, and stillbirths
Effective interventions for maternal and newborn health across the life cycle, including preconception care, healthy timing and spacing of pregnancies, antenatal care, labor and delivery management, and postnatal care
Foundations of routine essential newborn care for every baby at birth, including helping babies breathe, keeping them warm, keeping them clean, helping them feed, and regular monitoring and assessment for mother and baby
Metrics and indicators related to newborn health
Current global partnerships and initiatives related to newborn health
Program development and implementation strategies for essential newborn care, including successful case studies 
Credits
The following individuals are greatly appreciated for their invaluable support and expertise in developing this course:
Stella Abwao, MCSP
Tedbabe Degefie, UNICEF
Nandini Jayarajan, CCP
Lily Kak, USAID
Neena Khadka, MCSP
Smita Kumar, USAID
Ornella Lincetto, WHO 
Goldy Mazia, MCSP
Corinne Mazzeo, MCSP
Lisa Mwaikambo, CCP
Susan Niermeyer, USAID
Bina Valsangkar, Saving Newborn Lives, Save the Children
Greta Wetzel, Saving Newborn Lives, Save the Children
Lydia Wisner, MCSP
Special thanks to Barbara Deller, ACCESS, who authored the first edition of this course (published August 14, 2006).
Time
Published/Updated
Course Authors:
Erin Pfeiffer, MCSP consultant
Course Managers:
Related Courses