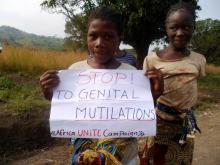 The practice of female genital mutilation/cutting (FGM/C) harms the physical, psychological, and reproductive and sexual health of women and is a violation of women's fundamental human rights. More than 125 million girls and women alive today have experienced FGM/C, and an additional three million girls are at risk of being cut in the next decade (UNICEF 2013).
This course will provide learners with an overview of FGM/C and examples of interventions that have worked—as well as those that have not worked—to encourage the abandonment of the practice.
Objective
At the end of this course, learners will be able to do the following:
Define female genital mutilation/cutting (FGM/C), describe the different types, and understand the affected population and the reasons for the practice
Identify the global prevalence of FGM/C
Describe the socio-economic factors contributing to the prevalence rates
Identify the immediate and long-term health complications from FGM/C
Identify human rights legal instruments that can be used in advocacy efforts to eliminate FGM/C 
Use successful country-led initiatives and case studies to define the critical programmatic elements that encourage abandonment of FGM/C
Credits
The course authors would like to thank the following reviewers for their contributions to the first version of this course, which was published in October 2008: Gannon Gillespie, TOSTAN; Sandra Jordan, USAID; and Laura Raney, formerly with Population Council. 
The course authors would like to especially thank and acknowledge Itoro Inoyo, MPH, USAID; Joan Kraft, PHD, USAID; Laure Michaels, USAID for their valuable assistance and insights into the updating of the course and statistics in 2022.
Time
Published/Updated
Thursday, October 20, 2022
Course Authors:
Amy Lee, CCP

Lisa Mwaikambo, CCP
Course Managers:
Related Courses