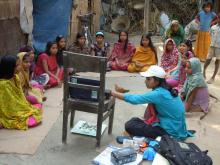 Knowledge management (KM) is the intentional and ongoing process of generating new knowledge, capturing and organizing existing knowledge, adapting that knowledge to meet different audiences' needs and sharing it at the right time in a format that is useful and usable.
Health care providers, program managers, and policy makers around the world require evidence-based information and knowledge to reduce duplication of effort across programs and activities and increase efficiency, inform decision making, and improve the quality of services. 
This course provides a basic understanding of what KM is and why it is important to the field of global health. Learners will become familiar with KM practices and techniques to overcome the challenge of getting essential, evidence-based knowledge into programs and practice and facilitating exchange of expertise and experience among health practitioners, programmers and policy makers to improve service quality, program effectiveness, and health outcomes.
Objective
By the end of the course, learners will be able to:
Identify the key elements of KM
List common KM processes
Describe how KM can address some of today's global health challenges
Identify the key steps in implementing a KM initiative
Name at least three KM interventions and techniques
Recall at least three examples of indicators that can be used to assess KM interventions
Credits
The course authors would like to thank the Global Health Knowledge Collaborative Advisory Board members and USAID for their valuable inputs.
Time
Published/Updated
Course Authors:
Lisa Mwaikambo, CCP

Sara Mazursky, CCP
Related Courses
Related Toolkits