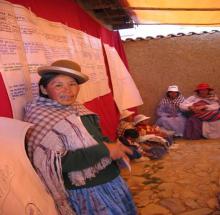 Postabortion care (PAC) reduces maternal mortality and morbidity and addresses unmet need for family planning, a root cause of induced abortion.
Postabortion care, one of the only integrated service delivery models in international public health, provides an integrated package of maternal and child health (MCH) and family planning (FP) services for women having complications from a miscarriage, incomplete abortion, or an induced abortion.
USAID's PAC model has three components: 
Emergency treatment of complications
Family planning counseling and services
Community empowerment through community awareness and mobilization
This course provides an overview of postabortion care including its definition, objectives, justification, programming best practices, indicators for monitoring and evaluation, and strong evidence base.
Objective
By the end of this course, participants will be able to:
Describe postabortion care (PAC) and why it is needed
Cite the three components of the USAID PAC model
Describe actions to design, implement, and evaluate PAC programs
Recall evidence-based approaches to strengthen postabortion family planning
Access additional assistance and resource materials
Credits
We greatly appreciate the invaluable contributions of the following individuals in developing and reviewing this course: Ellen Starbird, Beverly Johnston, Ricky Lu, Catherine McKaig, Lois Schaefer, John Eyres, Doug Laube, Giuliana Morales, Margaret D'Adamo, and the USAID/PRH staff who pre-tested the course and provided feedback.
Time
Published/Updated
Course Authors:
Carolyn Curtis, USAID

Erin Mielke, USAID
Course Managers:
Lisa Mwaikambo, CCP
Amy Lee, CCP
Related Courses
Related Toolkits