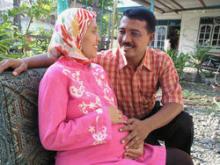 Research has demonstrated that more than 90% of women during the first year postpartum want to either delay or avoid future pregnancies. There is strong evidence of the health risks for mother and baby related to short birth intervals. The purpose of this course is to orient the learner to the rationale and the importance of family planning during the postpartum period, and to introduce the learner to service delivery, contraceptive methods, and programmatic considerations unique to family planning during the postpartum period.
Source: Ross and Winfrey 2001; WHO 2007
Objective
By the end of this course, you will be able to:
Define stages of the postpartum period
Define key terminology relevant to postpartum family planning
Discuss the rationale for, and importance of, postpartum family planning
Discuss contraceptive method considerations for the postpartum period
Describe the elements of extended postpartum family planning that are different from family planning in general
Discuss the role of integration in postpartum family planning programming
Describe unique programmatic issues surrounding postpartum family planning
Describe examples of postpartum family planning program integration
Credits
This course was originally authored by Barbara Deller, ACCESS-FP in November 2008 and has been updated by Elizabeth Sasser, MCSP and the FP team at MCSP.
The course authors would like to thank the following people for their review and inputs into the course content:
Holly Banchard, ACNM/ACCESS-FP
Patricia Gomez, Jhpiego/ACCESS
Joseph Johnson, Save the Children/ACCESS
Robin Anthony Kouyate, ACCESS-FP
Patricia MacDonald, USAID
Catherine McKaig, Jhpiego/ACCESS-FP
James Shelton, USAID
John Stanback, FHI
Patricia Stephenson, USAID
Time
Published/Updated
Course Authors:
Elizabeth Sasser, MCSP

Barbara Deller, ACCESS-FP
Course Managers:
Related Courses
Related Toolkits
Study Groups