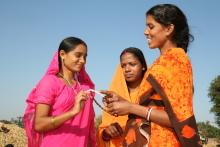 The Standard Days Method (SDM)® is an effective, modern natural method of family planning developed through scientific analysis of the fertile time in the woman's menstrual cycle.
Recent guidance from WHO describes how the method, with its low supply cost and attractiveness for couples who have not previously used contraception, can be procured by programs and offered by different levels of providers.
The SDM has helped expand contraceptive options and addresses unmet need. CycleBeads® facilitate provision and use of SDM by helping a woman track her cycle days, know which days she is fertile, and monitor her cycle lengths.
Objective
By the end of this course, the learner will be able to:
Define the Standard Days Method®  and CycleBeads®  and how it works

List the advantages and challenges of SDM

Understand the factors that facilitate or limit use of SDM, including common misconceptions

Describe how SDM and CycleBeads can be made more available in country programs

Understand the essential steps for integrating SDM into the family planning method mix
Credits
Course Contributers
Jeannette Cachan, MA, Director of Training (IRH); Rebecka Lundgren, MPH, Director of Research (IRH); Susan Igras, MPH, Director of Field Programs (IRH); Meredith Puleio, MBA (IRH); Susana Birdsong, MA (IRH); Sophie Savage (IRH)
Photo Credits
All photos used throughout the Standard Days Method elearning are the property of The Institute for Reproductive Health. For additional information on the photo or graphic, please see the caption on each page, if available.
Time
Published/Updated
Thursday, August 11, 2022
Course Authors:
Institute for Reproductive Health, Georgetown University
Course Managers:
Related Toolkits