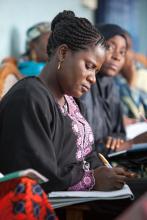 The purpose of this course is to provide participants with the knowledge to develop and implement the organizational setup needed to ensure the good governance of all types of health service delivery organizations. 
This course is the third in the series that comprises the Certificate Program on Governance and Health. We recommend that you take the governance courses in the following order since the subsequent courses build upon the earlier courses.
Governance and Health provides an overview of good governance in the health sector
Key Practices of Good Governance explores the essential principles and practices of high-performing governing bodies, managers, and service providers
Infrastructure for Good Governance provides practical setup and activities to enable the work of governing bodies
Those who work in the pharmaceutical sector are encouraged to also take the Good Governance in the Management of Medicines course.
Objective
By the end of this course, learners will be able to do the following:
Identify the 11 critical infrastructural elements that facilitate the work of governing bodies
Name three types of governing bodies and their degrees of decision-making control
Recognize governing competencies and identify at least three strategies for recruiting people with these competencies
Understand the importance of and identify strategies to foster good stakeholder relationships
List the five key policies that guide a high-performing governing body
Identify at least three ways to improve the quality and effectiveness of meetings
List the five methods of building trust among stakeholders in a good governance relationship
Describe the types of information needed for good governance decision-making
Target Audience
This course is designed primarily for those in governance, management, or service delivery roles in an organization who seek to improve their organization's governance and performance. In addition, USAID mission staff and others who support the ministries of health, health sector, and health service delivery organizations should refer their partners to this course so that they are aware of the practical setup needed for the work of governing bodies.  
Credits
The course author is very grateful to the reviewers who provided their insights and suggestions:
Anna Mary Coburn, USAID
Peggy D'Adamo, USAID 
Jim Shelton, USAID
Reena Shukla, USAID
Time
Published/Updated
Course Authors:
Dr. James Rice, Management Sciences for Health

Dr. Mahesh Shukla, Management Sciences for Health
Course Managers:
Related Courses