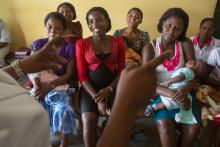 Good governance enables the effective use of medicines, information, human resources, and finances to deliver better health service performance for improved health outcomes. This course outlines the key practices of good governance, and various strategies and actions that can be taken to apply them in the health sectors of resource-constrained countries in Asia, Africa, and Latin America.
This course is the second course in the series of courses that comprise the Certificate Program on Governance and Health. We recommend that you take the governance courses in the following order since the subsequent courses build upon the earlier courses.
Governance and Health provides an overview of what is good governance in the health sector
Key Practices of Good Governance explores the essential practices of good governance
Infrastructure for Good Governance provides practical setup and activities to enable the work of governing bodies
Those who work in the pharmaceutical sector are encouraged to also take the Good Governance in the Management of Medicines course.
Objective
By the end of this course, learners will be able to:
List the key practices of good governance and practice domains for each of the practice

Name at least three actions that can be taken to implement each key practice of good governance in your organization

Identify additional learning resources that will further help in the practical application of the knowledge gained from this course
Target Audience
This course is designed anyone new to their  governance, management or service delivery role and seeking to improve their organization's governance and performance as well as USAID mission staff and others who support the ministries of health, health sector, and health service delivery organizations so that they can advocate the implementation of these practices and maximize the return on their investments. 
Credits
The course author is very grateful to the reviewers who provided their insights and suggestions:
Anna Mary Coburn, USAID
Peggy D'Adamo, USAID 
Jim Shelton, USAID
Reena Shukla, USAID
Time
Published/Updated
Course Authors:
Dr. Mahesh Shukla, Management Sciences for Health

Dr. James Rice, Management Sciences for Health
Course Managers:
Related Courses
Study Groups