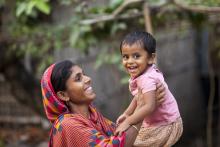 Behavior-centered approaches have increasingly become a focus in development and humanitarian work, as they have in the corporate and policymaking worlds. Behavior-centered is used in this course as an umbrella term for programming that draws on established theory and evidence to catalyze change in people's environments and behaviors.
Interventions to foster changes in behaviors and social norms—referred to as Social and Behavior Change (SBC) interventions—are an important aspect of efforts to reduce malnutrition around the world. This course aims to demystify SBC design as well as share useful SBC-related resources. 
Anyone who works with people can improve their work by incorporating SBC. Nutrition is no exception!
Note: We suggest you first complete Nutrition: An Introduction, as this course builds on concepts introduced in that course.
Objective
By the end of this course, you will be able to:
Understand some SBC models that explain why people behave in certain ways, how behaviors change, and how SBC strategies apply these models in designing behavior-centered programs
Know a list of evidence-based, nutrition-specific practices that have the greatest potential impact on the nutrition of mothers and children under 2 (during the first 1,000 days)
Know which sectors have the most potential to indirectly contribute to nutrition during the first 1,000 days (between pregnancy and a child's second birthday), by supporting nutrition-sensitive practices
Understand the SBC design process, which translates behavioral science into better nutrition programming
Understand the components of social and behavior change strategies and how these strategies strengthen every phase of nutrition program life cycles
Identify useful tools for learning more about SBC design, including research methods to help you prioritize and adapt nutrition practices for specific groups of people and programming contexts
Time
Published/Updated
Thursday, August 16, 2018
Course Authors:
Ashley Aakesson, SPRING

Andrew Cunningham, SPRING
Course Managers:
Related Courses