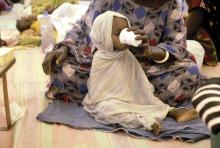 Diarrhea is the second leading killer of children under the age of five, accounting for approximately 9% of under-five child deaths worldwide, or half a million deaths annually. 
Although the means to prevent diarrhea through water supply, sanitation, and hygiene have been well-documented, each year roughly 1.5 billion episodes of acute diarrhea occur among children under the age of five.
This course will help you learn about the epidemiology, prevention, and treatment of diarrhea.
Objective
By the end of this course, you will be able to do the following:
Describe the epidemiology and magnitude of diarrheal diseases among children under the age of five in low- and middle-income countries
Explain the main principles of diarrhea case management in young children
Discuss prevention measures for diarrhea in young children in low-resource settings and challenges to program implementation
List key factors in diarrhea control programming
Credits
Special thanks to Marina Budeyeva, BASICS, who authored the first edition of this course (published June 20, 2007).
The course authors would also like to thank the following individuals for their contributions to the course revision:
Malia Boggs, USAID
Catherine Clarence, Abt Associates
Peggy D'Adamo, USAID
Troy Jacobs, USAID
Saiqa Panjsheri, Abt Associates
Kerry Ross, USAID
Time
Published/Updated
Course Authors:
Rachael Bonawitz MD, BUSPH, Center for Global Health and Development

James Wolff MD, MPH, BUSPH, Center for Global Health and Development
Course Managers:
Amy Lee, CCP
Lisa Mwaikambo, CCP
Related Courses