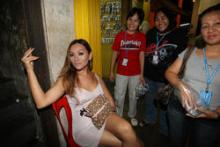 **THIS COURSE IS BEING REVIEWED AND UPDATED. LAUNCH DATE IS TBD**
Stigma and discrimination related to HIV and AIDS have a profound effect on the course of the epidemic. The fear of stigma and discrimination negatively affects the way in which individuals and families protect themselves and provide care and support to those affected.
This course explores HIV-related stigma and discrimination, including their importance and effects on behavior and HIV responses, promising practices for addressing them, and addresses the complex challenges that remain.
Objective
At the end of the course, learners will be able to:
Define HIV-related stigma and discrimination, and related concepts
Understand the negative consequences of stigma and discrimination on people, communities, and program efforts
Outline key strategies to reduce HIV-related stigma and discrimination
Understand key tools used to monitor and measure stigma and discrimination reduction efforts
Know where to look for further information or technical assistance
Credits
We would like to thank Ken Morrison of the Futures Group for his contribution to the course content.
We would also like to acknowledge the following peer reviewers for their valuable input:
Anne Stangl, ICRW
Caroline Wills, Consultant
Anuar Luna, Consultant
Caroline Teter, CEDPA
Jim Shelton, USAID
Ugochukwu Amanyeiwe, USAID
Time
Published/Updated
Course Authors:
Nadia Carvalho, Futures Group
Course Managers:
Related Courses