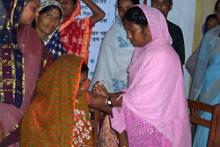 Hormonal contraceptive methods, in conjunction with nonhormonal contraceptive methods, offer women a wide range of options for delaying, spacing, and limiting births. Hormonal contraceptives are very effective in preventing pregnancy when used correctly and are an important part of a program's contraceptive method mix.
This course provides information that program managers and clinic staff can use to improve the quality of care in providing hormonal contraceptive methods. It describes characteristics of each method, including benefits and possible side effects. The course also looks at each method's level of effectiveness and worldwide use, and it shares country-level examples of introductory and/or scaled-up programs offering hormonal methods. The course also examines ways to meet the rising demand for hormonal methods and looks at service delivery methods to reach contraceptive users in their communities.
Objective
By the end of the course, learners will be able to:
Name the hormonal contraceptive methods that are currently available
List characteristics of each hormonal method
Discuss benefits and possible side effects of each hormonal method
Describe the level of effectiveness of each hormonal method
Articulate ways that programs can meet the rising demand for hormonal contraceptives
Describe service delivery approaches to reach contraceptive users in their communities
Credits
Thank you to Vanessa Mitchell, CCP/K4Health, who authored the first edition of this course, and thank you to those who reviewed the course: Ann Hyre/ACNM, Ricky Lu/Jhpiego, Patricia MacDonald/USAID, Katie Richey, Ushma Upadhyay, and Vera Zlidar/INFO Project, and Jim Shelton/USAID.
The following individuals provided valuable assistance in updating and reviewing the course:
Peggy D'Adamo/USAID
Chelsea Polis/Guttmacher Institute (formerly with USAID)
Boniface Sebikali/IntraHealth International
Jim Shelton/USAID