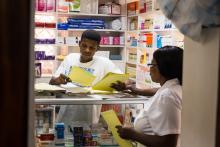 Social marketing is a widely used and effective approach to changing behavior largely through promoting the use of healthy products and services.
Social marketing interventions can help achieve many goals: 
Improved healthy behavior
Increased availability of public health products and services
Increased range of available products and services at a variety of prices and variations
Reduced burden on the public sector by shifting clients with some ability to pay to the private sector
Increased program sustainability
Improved targeting of donor funding
This course will help you understand the key principles of social marketing, clarify misunderstandings, outline under which circumstances it is best used, and how social marketing, when employed effectively, can improve health outcomes.
Objective
By the end of this course, you will be able to do the following:
Define social marketing and its fundamental attributes
Describe the social marketing process and how it is applied to program design and implementation
Understand the importance of using consumer insights to achieve effective social marketing programs
Identify the ways social marketing has been proven to improve health outcomes
Credits
The course authors would like to acknowledge and thank the following experts for reviewing and providing input to the course:
Jim Shelton, USAID
Elaine Menotti, USAID
Kimberly Cole, USAID
Marguerite Farrell, USAID
Clancy Broxton, USAID
Denise Harrison, USAID
Caroll Vazquez, USAID
Zarnaz Fouladi, USAID
Margaret D'Adamo, USAID
The course authors would also like to express their gratitude to Yasmin Madan (PSI), Olivier LeTouze (PSI), Beth Skorochod (PSI), Pierre Moon (PSI), and James Ayers (PSI) for helping to develop the course and Abt Associates, DKT, and MSI for providing content. 
Time
Published/Updated
Wednesday, February 3, 2016
Course Authors:
Donna Sherard, Consultant

Christine Bixiones, PSI, SIFPO2
Course Managers:
Lisa Mwaikambo, CCP
Helen Tzow, PSI
Related Courses