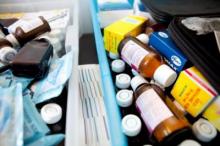 A total market approach is a lens or process that can be applied to develop strategies that increase access to priority health products in a sustainable manner. This approach helps grow the market for health products by better targeting free or subsidized products, reducing inefficiencies and overlaps, and creating room for the private sector to increase its provision of health commodities.
Total market strategies work best in mature health markets with greater prevalence and use of priority health products such as condoms, contraceptives, oral rehydration salts, zinc, and insecticide-treated bed nets. In less developed markets, a total market approach framework can still be used to help segment the marketplace, identify which populations should receive subsidized and free health products, and ensure a role for the private sector over the long run. Although the term "total market approach" is relatively new, stakeholders have been using similar concepts to transition their programs off of public and donor subsidies for many years.
Using practical examples, the course will guide USAID missions and other entities seeking to assist governments on how to use the total market approach concept to maximize resource use, increase access to priority health goods, and improve sustainability. Although this course focuses exclusively on health products, it is important to note that stakeholders can apply the total market approach beyond products to health information and service delivery. 
Objective
When you have finished this course, you will be able to:
Describe how a total market approach helps maximize scarce resources and support sustainability objectives
Define a total market approach and identify key stakeholders
Describe how market segmentation benefits key populations

Describe how donors should adapt their total market strategies based on the stages of market development 

Understand the health areas that a total market approach can be applied to
Describe the basic process for utilizing the total market approach concept to develop and implement programs

Identify the types of indicators that should be monitored to evaluate how a total market approach affects access and sustainability 
Credits
We would like to acknowledge and thank the following experts for reviewing the course:
Jim Shelton, USAID
Shyami de Silva, USAID
Maggie Farrell, USAID
Jasmine Baleva, USAID
Clancy Broxton, USAID

Sara Mazursky, JHU/CCP

Nandini Jayarajan, JHU/CCP
Lisa Mwaikambo, JHU/CCP
We would also like to express our appreciation to the following people for their help in developing the course:
Francoise Armand, Abt Associates
Jeff Barnes, Abt Associates
Susan Mitchell, Abt Associates
Caroline Quijada, Abt Associates
Dawn Crosby, Abt Associates
Time
Published/Updated
Course Authors:
Bettina Brunner, Abt Associates

Sean Callahan, Abt Associates
Course Managers:
Related Courses