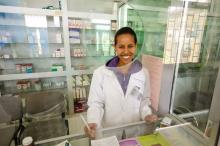 Medical products and related pharmaceutical services play a critical role in determining health outcomes. However, challenges common in low- and middle-income countries, such as high out-of-pocket expenses and substandard and falsified products, gravely hamper the success of treatments for common diseases. Access to safe and quality medicines at an affordable price, and their responsible use, can help countries prevent maternal and child deaths, create an AIDS-free generation, and protect their communities from infectious diseases.
As indicated by the US Agency for International Development (USAID), strong pharmaceutical systems are necessary for high-quality health services. However, mismanagement and inappropriate usage are common. Half of all medicines are prescribed, dispensed, sold, or taken inappropriately, and many are of poor quality, all of which accelerates development and spread of drug resistance.ses (HIV and AIDS, malaria, tuberculosis) and antimicrobial resistance.
Conceptualizing, developing, and strengthening pharmaceutical systems requires complex efforts. To support pharmacists and health professionals to build their skills and better understand how a pharmaceutical system functions, the USAID-funded Medicines, Technologies, and Pharmaceutical Services (MTaPS) Program developed this series of e-learning modules.
Continuous Learning for USAID Staff
USAID staff, such as AORs/CORs, who complete this course may be able to claim CL credit. Please check back as this course is under review beginning July 1, 2022. Please visit OAA's Certifications and Career Development page for more information.
Objective
Participants who complete the course should be able to:
Identify what a country pharmaceutical system is, how it relates to the supply chain system, and how it impacts the broader health system (in terms of service quality, coverage equity, and financial protection/resource optimization) as well as improved health outcomes.
Demonstrate how the Pharmaceutical Systems Strengthening approach can lead to more sustainable improvements in medicines access and use and contribute to achieve expected health outcomes.
Explain how the process of analysis of a problem can be better understood by looking at the underlying factors contributing to the problem, and how those factors may be linked to one or more pharmaceutical system and/or health system function.
Compare alternative strategies for interventions among those that have been proven to be effective to counter problems of the pharmaceutical systems in similar contexts, taking into account the local situation, political and regulatory considerations, feasibility of implementation, and the resources available.
Identify methods and tools for evaluating pharmaceutical systems to ensure that the expected outcomes have been achieved.
Identify specific pharmaceutical system weaknesses in USAID-supported countries that have an impact on USAID's health goals.
Credits
This course was developed by the USAID-funded Medicines, Technologies, and Pharmaceutical Services (MTaPS) Program.
Time
Published/Updated
Course Authors:
Javier Guzman, Technical Director
Abibata Handley, Principal Technical Advisor for Capacity
Francis (Kofi) Aboagye-Nyame, Program Director
Helena Walkowiak, Senior Principal Technical Advisor
Emmanuel Nfor, Deputy Technical Director
Kate Kikule, Principal Technical Advisor
Niranjan Konduri, Principal Technical Advisor
Kwesi Eghan, Principal Technical Advisor
Andrew Brown, Senior Principal Techncial Advisor
Course Managers:
Andrew Brown, Senior Principal Technical Advisor for Governance and Capacity Building
Emmanuel Nfor, Technical Director