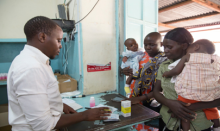 Poor governance leaves health systems vulnerable to corrupt practices and mismanagement. When these problems occur in pharmaceutical systems, the ramifications can be costly for governments, institutions, and individuals. Corruption and poor management can also diminish access to medicines and may lead to the consumption of adulterated, ineffective, or inappropriate products that harm patients. Good governance in the management of medicines, vaccines, and other pharmaceutical products (called pharmaceutical management) is an important concern for governments, citizens, development partners, and other stakeholders.
This course provides learners with an understanding of the importance of good governance throughout the process of pharmaceutical management (selecting, procuring, distributing, and using medicines and other pharmaceutical products). Key interventions that can promote good governance are discussed, as well as important considerations when working with countries to implement improvement strategies.
Objective
Upon completion of the course, the learner will be able to do the following:
1.    Recall the definition of governance that is applicable to the management of medicines and other pharmaceutical products
2.    List the United Nations Development Programme (UNDP) principles of good governance
3.    Explain why pharmaceutical systems are vulnerable to corruption
4.    Identify problems that can occur as a result of poor governance in pharmaceutical systems and the potential consequences for the health system and individuals
5.    Name strategies that can promote good governance in pharmaceutical systems
6.    Discuss key considerations for assisting countries, institutions, and staff to strengthen governance in pharmaceutical systems
7.    Know where to look for further information on initiatives and organizations working on governance issues that affect access to and appropriate use of medicines
Credits
The course authors are very grateful to the reviewers who provided their insight and suggestions:
Anna Mary Coburn, USAID
Deirdre Dimancesco, WHO
Lisa Ludeman, USAID
Maria Miralles
Heela Rasool, USAID
Jim Shelton, USAID
The authors would also like to acknowledge the valuable contributions of Katelyn Payne (MSH/SIAPS) and Louis An.
Time
Published/Updated
Course Authors:
Helena Walkowiak, MSH/SIAPS

Susan Putter, MSH/SIAPS
Course Managers:
Nandini Jayarajan, CCP
Amy Lee, CCP
Maura Soucy Brown, MSH/SIAPS
Related Courses