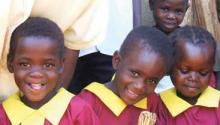 200 million children globally are not meeting their developmental potential. Ensuring a strong beginning for children will enable them to live healthy, productive lives.
Introduction to Early Childhood Development (ECD) will provide learners with an awareness of key early childhood development terms, concepts, and definitions. The course will explain how children develop, how HIV impacts the developmental trajectory of young children, and how, in the absence of intervention, children can suffer life-long consequences.
This course is the first in the ECD series which aims to engage staff of implementing agencies involved in existing ECD programs, focusing on vulnerable children affected by HIV, or facing other challenges such as chronic poverty, displacement, or conflict.
The ECD series is based on the Essential Package: Holistically Addressing the Needs of Young Vulnerable Children and Their Caregivers Affected by HIV and AIDS, which was developed by the Inter-Agency Taskforce on HIV and ECD led by Save the Children and CARE in collaboration with the Consultative Group on Early Childhood Care and Development, the Centers for Disease Control, and ChildFund with funding from the Conrad N Hilton Foundation.
Objective
By the end of this course, the learner will:
Understand what ECD is and why it is important

Identify the importance of the four developmental domains – physical, cognitive, language, and socio-emotional - and how they are interconnected

Appreciate the holistic nature of ECD and the different players involved

Recognize the effects of HIV on development, including the effects of HIV-related stigma, discrimination, and social isolation
Credits
The course authors would like to acknowledge the following technical reviewers for their valuable input:
Gretchen Bachman, USAID

Adele Clark

,

Catholic Relief Services

Colleen Farrell,

Save the Children

Kate Iorpenda,

International AIDS Alliance

Maury Mendenhall, USAID

Lynette Mudekunye,

REPSSI

Mary Phiri,

SAFE (Malawi)

Nicole Richardson,

Save the Children

Shannon Senefeld,

Catholic Relief Services

Kristen Wares,

USAID
Time
Published/Updated
Thursday, September 5, 2013
Course Authors:
Ann M. DiGirolamo, CARE

Swathi Sekar, CARE

Camille Smith, CDC

Kendra Blackett-Dibinga, Save the Children
Course Managers:
Elizabeth Futrell, CCP
Lisa Mwaikambo, CCP
Kendra Blackett-Dibinga, kblackett@savechildren.org
Camille Smith, casmit21@ncsu.edu
Related Courses