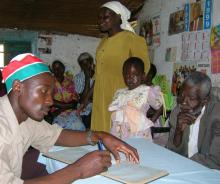 A child's ability to reach his or her developmental milestones depends on a number of factors including the child's health, the caregiver's well-being, and the caregiving environment in which the child is raised. The Essential Package (EP) promotes monitoring and evaluation at all three of these levels so that program managers will be able to identify where changes need to be made and how best to prioritize interventions so that children reach their developmental potential. This course explores the three levels of monitoring and evaluation (M&E) set forth in the EP and promotes a shared M&E agenda for programs targeting young vulnerable children.
This course is the final course of six courses in the Early Childhood Development (ECD) series which aims to engage staff of implementing agencies involved in existing ECD programs, focusing on vulnerable children affected by HIV, or facing other challenges such as chronic poverty, displacement, or conflict.
The ECD series is based on the Essential Package: Holistically Addressing the Needs of Young Vulnerable Children and Their Caregivers Affected by HIV and AIDS, which was developed by the Inter-Agency Taskforce on HIV and ECD led by Save the Children and CARE in collaboration with the Consultative Group on Early Childhood Care and Development, the Centers for Disease Control, and ChildFund with funding from the Conrad N Hilton Foundation.
Suggested prerequisite: If you are new to M&E, the course authors recommend that you take the M&E Fundamentals course to familiarize yourself with some basic M&E concepts and definitions.
Objective
At the end of the course, the learner will be able to:
Understand the EP M&E framework
Describe the significance of monitoring at the level of the child well-being, caregiver well-being, and caregiving environment
Explain how the EP M&E framework relates to the building blocks
Identify specific indicators for measurement at the level of child well-being, caregiver well-being, and caregiving environment
Identify specific tools used to support measurement of children's development
Understand how M&E data can be used for program decision making, planning, and learning
Credits
The course content was collaboratively developed by Save the Children and Kaijage Consultants for African Family Health. A special thanks to Salome Tsereteli-Stephens of Save the Children for her contributions.
The course authors would like to acknowledge the following technical reviewers for their valuable input: 
Adele Clark, Catholic Relief Services

Colleen Farrell, Save the Children

Cephas Goldman,

USAID/South Africa

Elizabeth Kariuki, Pact
Anita Sampson,

USAID/South Africa
Janet Shriberg,

USAID

Pablo Stansbery,

Save the Children
Time
Published/Updated
Friday, September 6, 2013
Course Authors:
Kendra Blackett-Dibinga, Save the Children
Course Managers:
Related Courses