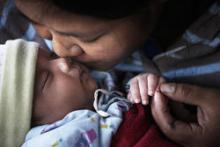 The Essential Package provides critical supports for highly vulnerable children. However, there are children, such as those living with HIV and AIDS, a disability, or other risk factors to development, who need additional protective interventions to enable their growth and development in a healthy manner. Children afflicted by HIV and AIDS, whether infected or affected, typically suffer severe developmental delays. In addition, mothers who do not receive adequate antenatal and postnatal care, including PMTCT, may suffer complications during their pregnancies which may result in disabilities. Frequent and recurring illnesses in early childhood that do not receive proper medical attention may also result in disability or even death. Early intervention, treatment, and consistent support have been shown to be effective responses to the unique challenges of these children.
This course will explore the role of "shocks" in the development of young children which can lead to developmental delays. Through discussion of red flags in the course of development, the learner will be able to identify potential warning signs which may indicate the need for intervention. Finally, the course will explore the needs of children with HIV and/or disabilities and potential interventions for such children so that they can reach their developmental potential.
This course is the fourth course of six courses in the 
Early Childhood Development (ECD) series
 which aims to engage staff of implementing agencies involved in 
existing ECD programs, focusing on vulnerable children affected by HIV, or facing other challenges such as chronic poverty, displacement, or conflict.
Objective
By the end of the course, the learner will be able to:
Understand the role of shocks in the course of a child's development
Define the terms "red flag" and "developmental delay" as it relates to child development
Understand the role of assessment and observation in identifying and responding to potential red flags
Describe special considerations for children with HIV/AIDS and/or disabilities and interventions to support such children
Understand the role of policy in ensuring inclusion of these children in quality early learning experiences
Credits
The course content was collaboratively developed by Save the Children, Kaijage Consultants for African Family Health, and Nepiala Sikero from Montfort College, Malawi.
The course authors would like to acknowledge the following technical reviewers for their valuable input: 
Adele Clark, Catholic Relief Services

Sarah Dastur,

PACT

Colleen Farrell, Save the Children

Nicole Richardson

,

Save the Children

Janet Shriberg, USAID

Camille Smith,

Centers for Disease Control and Prevention

Pablo Stansbery,

Save the Children
Time
Published/Updated
Friday, September 6, 2013
Course Authors:
Kendra Blackett-Dibinga, Save the Children
Course Managers:
Related Courses