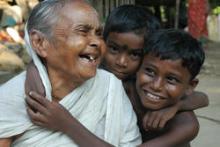 The Essential Package (EP) is a comprehensive set of tools and guides for policymakers, program managers, and service providers to address the unique needs and competencies of young children, particularly those infected with or affected by HIV and AIDS, in an integrated and holistic way. This course introduces the learner to the EP's essential tools and building blocks and explains why monitoring and evaluation should target three different levels of intervention.
This course is the third course of six courses in the Early Childhood Development (ECD) series, which aims to engage staff of implementing agencies involved in existing ECD programs in different contexts, currently focusing on vulnerable children affected by HIV, or facing other challenges such as chronic poverty, displacement, or conflict.
The ECD series is based on the Essential Package: Holistically Addressing the Needs of Young Vulnerable Children and Their Caregivers Affected by HIV and AIDS, which was developed by the Inter-Agency Taskforce on HIV and ECD led by Save the Children and CARE in collaboration with the Consultative Group on Early Childhood Care and Development, the Centers for Disease Control, and ChildFund with funding from the Conrad N Hilton Foundation.
Objective
By the end of this course, the learner will be able to:
Identify the three components of the EP

Understand how and where the EP should be used

List the building blocks of the EP and  and understand why they are the foundation of the EP

Explain both child and caregiver frameworks within the Essential Package

Articulate the rationale for and elements of a holistic, integrated approach to supporting young vulnerable children and how the EP promotes integration

Understand the content of both the child and caregiver visual guides and household care plan

Describe the M&E framework associated with the EP and outcomes the three levels of intervention - child, caregiver, caregiving environment
Credits
The course content was collaboratively developed by Save the Children and Kaijage Consultants for African Family Health. 
The course authors would like to acknowledge the following technical reviewers for their valuable input: 
Ann Digirolamo,

CARE

Joan Duncan,

University of Hartford

Maury Mendenhall, USAID

Nicole Richardson,

Save the Children

Pablo Stansbery,

Save the Children
Time
Published/Updated
Friday, September 6, 2013
Course Authors:
Kendra Blackett-Dibinga, Save the Children
Course Managers:
Related Courses